SousVideTools® iVide Plus JNR Thermal Circulator WiFi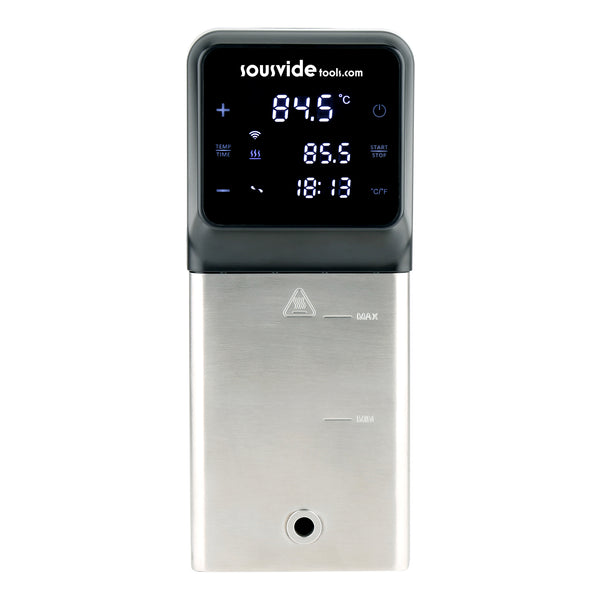 SousVideTools® iVide Plus JNR Thermal Circulator WiFi
The iVide Plus Jnr. Sous Vide Cooker and its App were built and designed from scratch to work together.
A 1.5KW heating element means faster heating times, so time spent waiting for the cooking vessel to reach temperature is minimal. This professional model has been designed so that you just clamp the unit to the side of any suitable stainless/polycarbonate container/kitchen vessel up to 50 litres capacity, and you have an instant temperature-controlled Sous Vide water bath, with a working temperature of 5°C to 99°C, and accuracy of 0.07°C. The stirred technology ensures no hot or cold spots. Its space saving design allows for quick storage.
The timer can be set between 1minute and 99hours. Once the cooking time has completed the unit will notify you by both an alarm and display indicator, whilst continuing to operate. Temperature control is very simple, with touch button control. This model also features a low water level protection, meaning should you or a colleague accidentally turn the circulator on empty or allow the water level to drop below the minimum required the circulator will shut off and notify you by both an alarm and display indicator (H20) ensuring it remains undamaged. The machine is completely constructed in stainless steel meaning it can withstand the pressures of the commercial kitchen.
Specification
High precision Sous Vide thermal circulator with temperature control
4 inch touch screen interface
1.5kW heating element
Designed to fit to any round or flat cooking vessel with a minimum depth of 16.5cm by means of a clamp
Best performances up to 45 litres
Working temperature 5°C to 95°C, accuracy 0.1°C
Multiple machines can be managed from the APP
Offers exceptional temperature stability
Low level water protection device switches off the Sous Vide in case of accidental use without water
Circulating pump to eliminate cold and hot spots
Temperature sensor to prevent overload and overheating
A convenient handle makes it easy to carry
Dimensions: 285(h) x 159(w) x 121(d)mm