SousVideTools® 56 Litre Stirred Water Bath with iVide Plus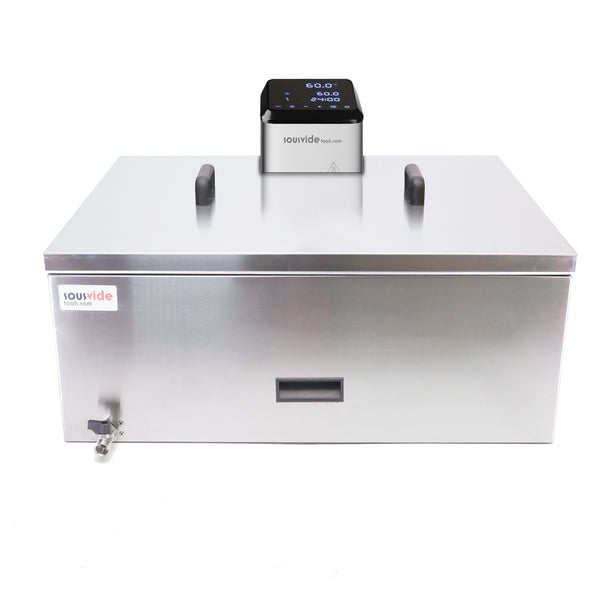 SousVideTools® 56 Litre Stirred Water Bath with iVide Plus
This 56 Litre SousVideTools® stirred Sous Vide water bath provides controlled cooking at consistent precise temperatures, providing perfect results time after time. This bath consists of an unheated insulated AISI304 stainless steel bath and lid, along with thermal circulator that is mounted on a bracket, enabling it to sit over the tank safely. It also has a practical handle making is easy to carry. For even more convenience this 56 Litre stirred water bath has a drain tap for emptying after service. The circulating
propeller inside the thermal circulator ensures a stable and consistent water temperature and heat distribution throughout the bath to 0.03°C, removing any potential cold or hot spots. This bath has a working temperatures of 40°C to 100°C. Actual temperature is clearly displayed to 0.1°C.
The timer can be set between 1minute and 99hours. Once the cooking time has completed the unit will notify you by both an alarm and display indicator, whilst still continuing to operate. Temperature control is very simple, with touch button control. This model also features a low water level protection, meaning should you or a colleague accidentally turn the water bath on empty or allow the water level to drop below the minimum required the circulator will shut off and notify you by both an alarm and display indicator (ER1) ensuring it remains undamaged. The machine is
completely constructed in high quality stainless steel to ensure it stays robust under the toughest kitchen conditions. The heating element, motor and thermostats are all surrounded by a stainless steel cage which prevents any vacuum pouches coming directly into contact with them. For cleaning the cage is easily removed in a matter of
seconds.
KEY FEATURES
+ High precision Sous Vide stirred water bath with temperature control
+ Bright LED working temperature display
+ IP X3 water protection rated stainless steel structure which means can stand up to the toughest working conditions
+ 2.2kW Heating element
+ Working temperature 20°C to 100°C, accuracy 0.03°C
+ An inbuilt energy saving device automatically turns on once the units reach temperature
+ Low level water protection device switches off the Sous Vide in case of accidental use without water
+ Circulating pump to eliminate cold and hot spot
+ Temperature sensor to prevent overload and overheating
+ A convenient stainless steel handle makes it easy to carry Drain Tap as standard
+ HxWxD (mm) 560 x 550 x 675SVT 01017