SMOKE, WHISKY & WINE IN A BOX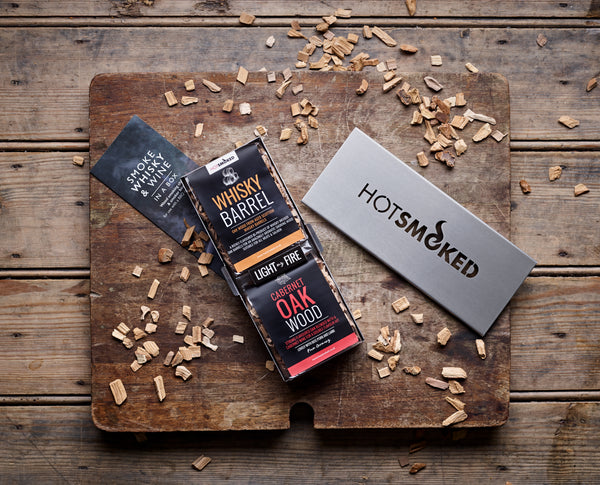 SMOKE, WHISKY & WINE IN A BOX
Start your hot smoking journey with some decadent, smoky flavours in this mini hot smoking starter kit. Packed into our stainless steel smoker box are packs of Whisky Barrel Oak and Cabernet Oak, a 4 page instruction leaflet and our 'Light My Fire' matches. This is a great gift for the adventurous barbecuer.
Smoker box packed with Whisky Oak and Cabernet Oak chips
Add rich smoky flavours to beef, chicken, salmon, vegetables and fruit
For use on a BBQ or smoker
Presented in a printed sleeve
Product Description
This mini hot smoking kit makes a brilliant gift for outdoor foodie cooks, boosting slow cooked foods with delicious wine and whisky infused smoky flavours. For use on a regular BBQ, the kit includes a solid stainless steel smoker box and packed inside it are two bags of aromatic wood smoking chips, one made from 25 year old oak barrels used to age Scottish Whisky and the other pure oak chips tumbled and blended with a Cabernet wine. Our Light My Fire matches, together with an instruction leaflet with full directions plus tips and techniques complete the kit. Suitable for gas or charcoal BBQs, just add a handful of your choice of chips to the smoker box, place the box on your bbq heat source, keep the heat low and gentle, add your food, close the lid and cook slowly. The results will be mouth watering, tender and juicy with a subtle smokiness. These smoking wood chips are perfect with BBQ favourites beef, pork and chicken but also delicious with hot smoked salmon, vegetables and fruits. Smoker box measures L 23 x W 10 x H 4 cm and is packed in printed sleeve. Wood is packed in recyclable cellophane bags, approximately 100g All our smoking woods are 100% pure natural wood, sourced sustainably from managed resources. Reseal the bags to keep in the whisky and wine flavours and keep in a cool dry place.