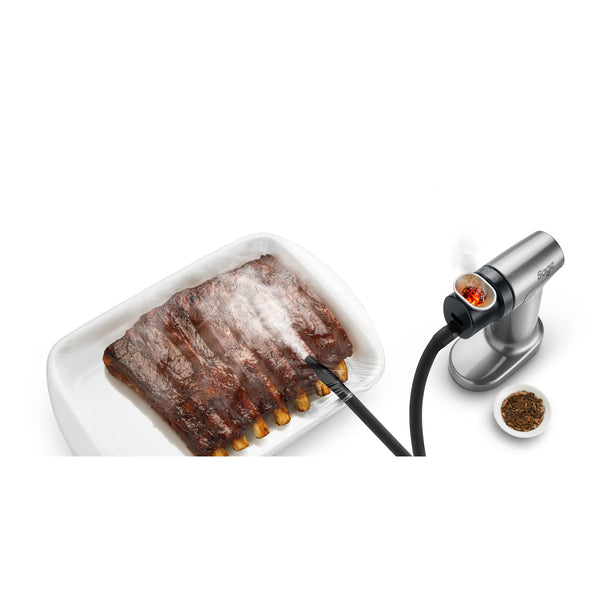 Sage® Smoking Gun™ lets you add delicious smoky flavours to fish, meats, and vegetables; and its heat-free operation means you can even smoke more delicate foods like cheese without melting them.
The Sage® Smoking Gun™ is brilliant for adding wonderful smoked flavours to just about any food using cool smoke and without needing to add heat. Infuse your food with classic aromas such as hickory or applewood, or experiment with creative flavours like teas, spices or dried flowers.
And it's great fun with cocktails and other drinks too! How about a Manhattan cocktail infused with cigar smoke? Or an applewood smoked Bloody Mary? The possibilities really are endless.
The gun comes fully ready to go, with 4 AA batteries and 2 sample jars of Sage® smoking sawdust in hickory and applewood.
KEY FEATURES
+ Create classic flavours with wood chips, or expand your culinary creativity by smoking with flavours like teas, spices, and dried flowers
+ Robust housing with stable integrated base and metal smoke path for optimised
performance and longevity
+ Dual speed control from gentle to intense smoke infusion
+ Efficient, low-noise motor
+ Runs on 4 AA batteries (included)
+ Excellent for finishing products that are cooked Sous Vide or other methods where food is not normally directly exposed to fire or smoke
+ Includes two 1/2 oz sample jars of hickory and applewood smoking sawdust
+ Main Chamber - L:122 x W:46 x D:46
+ Handle - L:110 x W:41 x D:34
+ Smoking Tube - L:525 x W:10