Sage® | Polyscience® Smoking Gun Pro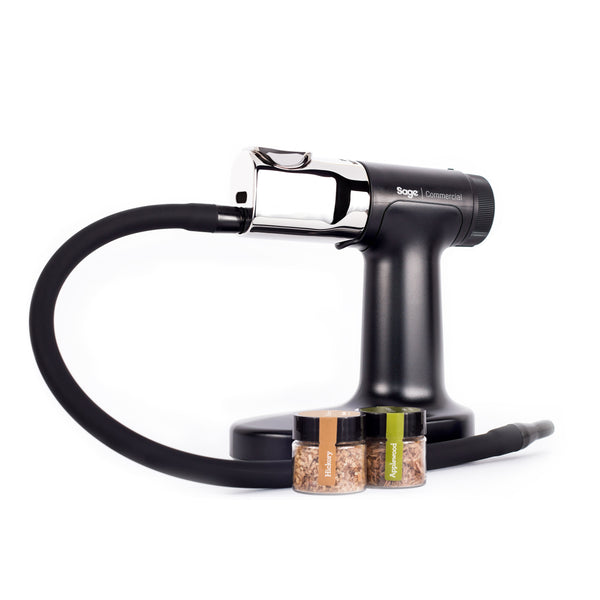 Sage® | Polyscience® Smoking Gun Pro
Introducing the new Sage® I Polyscience® heavy-duty Smoking Gun. The new professional model takes all the best features of the existing model, and then they have worked with some of the best chefs in the world to create an even better smoking gun with improved airflow, reduced noise, and without the resin build up. As standard it comes with a variable air flow adjustment, a large capacity removable
stainless steel hopper for the wood chips, meaning it can be easily cleaned of tar build up, and the filters are simple to replace.
On top of this the chamber that protects the fan itself is stainless steel, meaning it can't be melted by blowtorch use, and this also is fully removable and is dishwasher safe. The base of the smoking gun has also been improved, resulting in a stable footprint. The final pièce de résistance is the fact the fan can be removed with the Allen key provided, to help with cleaning to ensure there is no residue on it that can
cross-contaminate flavours.
KEY FEATURES
+ Create classic flavours with wood chips, or expand your culinary creativity by smoking with flavours like teas, spices, and dried flowers
+ Robust housing with stable integrated base and metal smoke path for optimised
performance and longevity + Dual speed control from gentle to intense smoke infusion
+ Efficient, low-noise motor
+ Runs on 4 AA batteries (included)
+ Excellent for finishing products that are cooked Sous Vide or other methods where food is not normally directly exposed to fire or smoke
+ Includes two 1/2oz sample jars of hickory and applewood smoking sawdust
+ Main Chamber - L:122 x W:46 x D:46
+ Handle - L:110 x W:41 x D:34
+ Smoking Tube - L:525 x W:10
comes with free of charge delivery