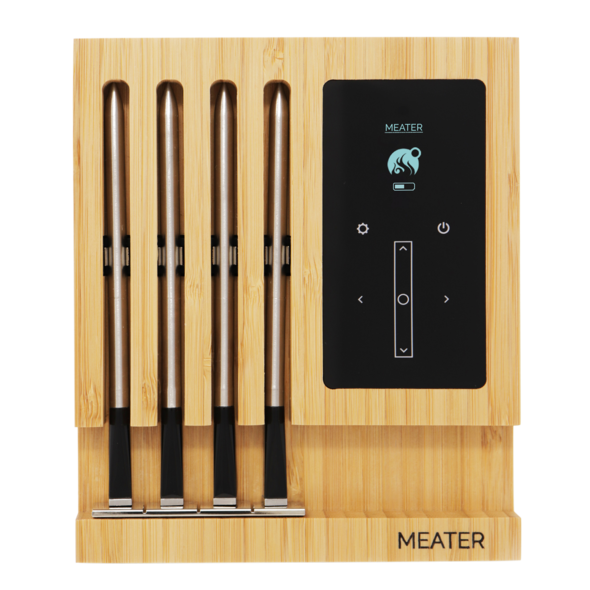 50m Built-In WiFi & Standalone Mode
Developed with state of the art technology combined with an insatiable passion for mouth watering, perfectly cooked food.
Features 
Longer Range: Bluetooth to WiFi range extension built-in up to 50m. Stand-Alone Mode: Cook without the use of your smart phone.

4 Probes: Dual temperature sensors in each probe can monitor internal meat temperature up to 100°C and ambient / external temperature up to 275°C simultaneously.

Guided Cook System: Walks you through every step of the cooking process to guarantee perfect and consistent results. You can also set up custom alerts / notifications based on temperature and/or time.

Advanced Estimator Algorithm: Estimates how long to cook and rest your food to help plan your meal and manage your time.
SPECIFICATIONS 
Probe Specs
Bluetooth LE 4.0 wireless connection
Maximum internal temperature: 100°C (meat)
Maximum ambient temperature: 275°C (cooker)
Stainless steel and ceramic construction
Water resistant and easy to clean
Rechargeable: Over 24 hours of continuous cooking
Dimensions: 130mm length and 6mm diameter
Numbered for easy identification
Block Charger Specs
Built-in WiFi repeater extends range over your home network
Directly connects to the MEATER Cloud for on-the-go monitoring
Store and charge your MEATER probe
Charges MEATER using 4x AA batteries
Power alternatively using Micro USB for long cooks
Real wood to match any kitchen or outdoor decor
OLED display with touch capacitive control to cook without the app
Max outdoor operation temperature: 60°C
Dimensions: 132mm L x 39mm W x 157mm H"
App Requirement
iPhone and iPad apps for iOS 10.3 and later
Android app for versions 5.0 and later