iVide Chamber Vacuum Sealer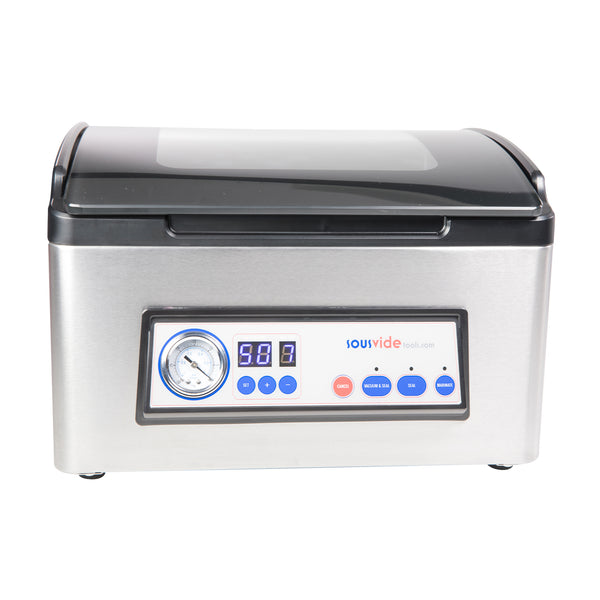 iVide Chamber Vacuum Sealer
The SousVideTools® iVide Chamber Vacuum Sealer Machine is capable of vacuum sealing and packaging just about anything, including liquid rich food ingredients –
something which other standard vacuum sealers simply can't do.
Most vacuum sealers operate using suction, sucking the air from a vacuum bag which is then sealed. The problem with this method is that liquids can also be sucked from the bag, resulting in a messy film of oil or liquid along the sealed edge which can even leave an imperfect or incomplete seal.
The SousVideTools® iVide Chamber Vacuum Sealer works differently. Not only does it achieve a higher level of vacuum than standard machines, but once the vacuum bag is inside the chamber with the lid closed, air is removed from the entire chamber and not just the bag. This means the air pressure stays the same both inside and outside the bag, and liquids are not drawn out. Once the bag is sealed, normal air pressure is returned to the chamber leaving a perfectly sealed vacuum inside the bag.
As an added bonus these machines also have a function for marinating foods. It will pull vacuum for 99 seconds without going into the sealing function. This is ideal for pickling cucumber in some vinaigrette in a bowl. As the machine goes through the vacuum process it will pull the vinaigrette into the cucumber to create the pickled taste. Much better than leaving in a jar.
The vacuum packer has a smart low profile design, featuring a cleverly hinged lid which folds neatly back to minimise space requirements, and a clear and simple touch display for ease of operation.
The transparent tempered glass lid allows better product visibility during packing.
KEY FEATURES
+ Compact size
+ Detachable power leads; both UK and European plugs included
+ 300mm sealing bar
+ Easy to use digital control panel
+ Pump: Dry rocker piston
+ Cycle Time: 90 seconds
+ 95 second marinating cycle for inside the chamber
+ External Dimensions: 240(h) x 420(w) x 360(d)mm
+ Internal Dimensions:110(h) x 300(w) x 320(d)mm
More detailed specifications available upon request