I-Cucina 405 Vacuum Packer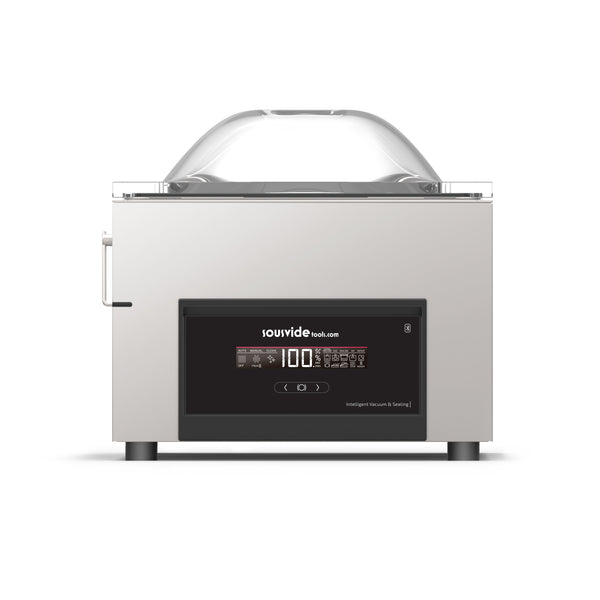 I-Cucina 405 Vacuum Packer
Vacuum Packing has never been this easy. Just put the food in the bag and close the lid. That's all! No settings to enter. No readjustments. Our vacuum packer detects the size, amount, and type of food. It can also tell whether the food is liquid or porous, whether the bag is thick or thin, or even made of metal. It also monitors and regulates
the temperature of the sealing bar and recalibrates automatically based on variations in atmospheric pressure.
The result is always the same: perfect vacuum packing without any human intervention. It is also revolutionary when it comes to the profitability of your business.
Thanks to its smart sensors, the time it takes for each packing cycle is minimized and it uses only the necessary amount of energy. This technology protects the vacuum packer from unnecessary overloads, significantly extending the life of the pump, the sealing bar and the oil. The result is about a 50% cost saving compared to current vacuum packing technologies.
Say goodbye to constantly configuring and adjusting your vacuum packer. Just close the lid and that's it! You don't even have to press a button. Of course, the vacuum packer can also be used in manual mode. Give full rein to your creativity to try all kinds of techniques: impregnations, foams, marinades, adding colour or flavour to foods, deaerating sauces, etc.
KEY FEATURES
+ Sealing bar length of 405mm
+ Busch® vacuum pump 10m3/hr suction
+ Sensor controlled vacuum
+ LCD Touch Screen
+ Liquid Sensor as standard
+ Intelligent sealing – automatically regulates time and temperature
+ iVac Smart sensor: Sets optimal vacuum automatically without human intervention
+ SCS: Self-calibrating system with no need of human intervention
+ Vac+: Extra vacuum for porous foods
+ Soft Air: Gradual air inlet for packing delicate or special food
+ Auto Oil Clean: Self-cleaning oil system with automatic alert
+ Etched double-seal sealing bar with 2x 3mm double seal
+ Easily removable sealing bar for cleaning
+ Deep chamber with round corners
+ Full CE approval
+ External Dimensions: 454(h) x 475(w) x 561(d)mm
+ Internal Dimensions:200(h) x 412(w) x 453(d)mm
More detailed specifications available upon request