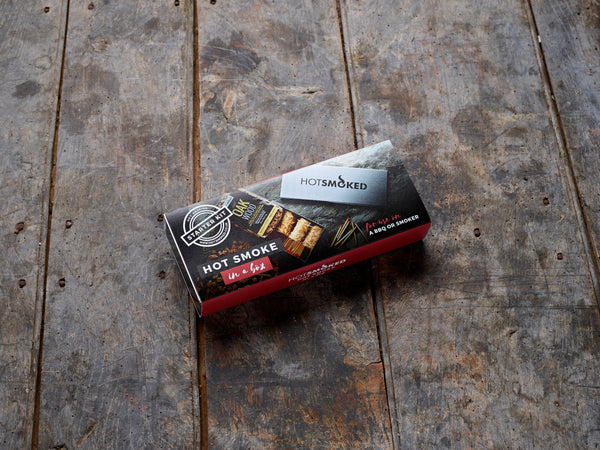 This mini starter kit is just the job for getting started with hot smoking on your bbq or smoker. We've packed aromatic pure oak wood chips, natural wax and wood wool firelighters, matches and a User Guide into our Hot Smoked stainless steel smoker box to create a fabulous starting point for hot smoking success.
Mini hot smoking starter kit
Brilliant gift for any outdoor cook
For use on a BBQ - charcoal or gas - or smoker
Supplied with printed sleeve. L 23 x W 10.5 x H 4.8 cm. Weighs 600g
Product Description
Our Hot Smoke in a Box brings the delicious possibilities of hot smoking compactly together in our solid stainless steel smoker box. Just tip a handful of the oak chips supplied into the smoker box and place this directly on hot coals or above the gas heat source in a bbq smoker. As the box heats up the wood begins to smoulder releasing delicous wood smoke flavour to infuse your outdoor cooking. Hot smoking is best achieved at lower temperatures over longer cooking periods giving you tender, moistureful and gently smoked results. Oak delivers a rich robust smoke flavour which is perfect for any meats, fish and vegetables.
Included in the kit are:
Stainless steel smoker box
Oak wood smoking chips (approx 150g)
Pack of rolled natural wax and wood wool firelighters (3 per pack)
Box of matches
User Guide including step by step directions and tips & techniques
More details
The smoker box is made of solid stainless steel and can be used again and again. It features the Hot Smoked logo etched into the lid from which the wood smoke is released. The box measures H4.5 x W8 x L18 cm
Our Oak wood chips are from Germany and packed into a recyclable cellophane bag. All our wood products are 100% pure, sourced from sustainable, managed resources and produced specifically for use with food.
The wax and wood wool firelighters are made from an FSC softwood and natural wax - no chemical content whatsoever.
The sleeved kit box measures L 23 x W 10.5 x H 4.8 cm and weighs 600g