Dry Aging at home Starter pack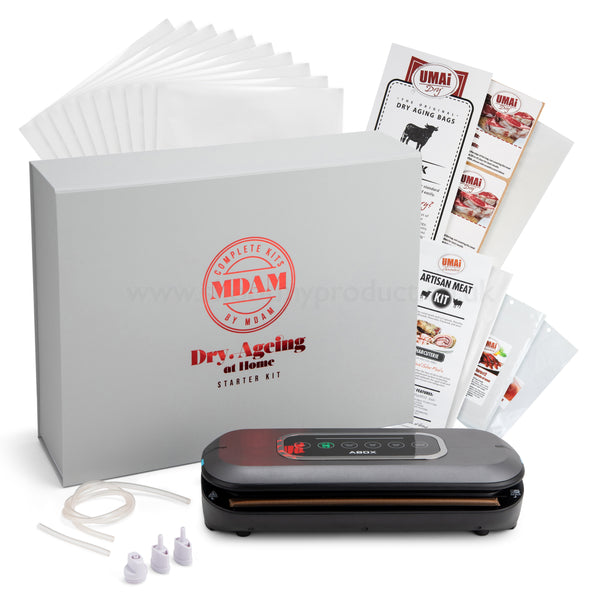 Dry Aging at home Starter pack
The UMAi Dry® Artisan Meat Kit
Create The Original Slow Food®--dry aged steak and dry cured meats such as Capicola, Pancetta, Lonza, Bresaola, Prosciutto, Guanciale, and more.
UMAi Dry® brings together the best of old world artisan meat tradition with sophisticated modern technology making it easy for you to craft authentic dry aged steak, charcuterie and salumi in the comfort of your own refrigerator.
UMAi Dry® Features: NO ORDINARY PLASTIC BAG!
Breathes and allows meat to dry age
Protects meat while aging
Prevents exchange of odors
No mess, no mold, no off­-flavors
UMAi Dry® is a special membrane, not a vacuum bag.
Kit Includes:
1­ Artisan Dry Aged Steak Pack (for three 12­-16 lb Subprimal Ribeye, Striploin or Sirloin cuts)
1­ Artisan Charcuterie Pack (for five dry curing projects, up to 30 lb of meat)
Recipes and Illustrated Instructions
Abox V66 vacuum sealer

Sealer features: 
The V66 Automatic Food Sealer Machine is a One-Touch Sealing for Dry and Moist Food Fresh Preservation with 10PCS BPA Seal Bags for Meat, Vegetables, Fruits.

LONGER STORAGE TIME: ABOX newest automatic vacuum sealer keeps food fresh in the freezer up to 7 times longer, prevents freezer burn, reduces spillage and food waste.
FULLY AUTOMATIC DESIGN: Bulit in one-touch operation, the upper lid will automatically open and close. Just choose the suitable mode until the indicator lights up to complete the work quickly.
SMART TOUCH SCREEN: The large sensitive control center placed on the top panel provides a user-friendly experience. LED Progress Bar easily guides you through the vacuum sealing process.
MULTIPLE WORKING MODES: 5 customisable vacuuming modes for maximum flexibility - whilst also being able to stop and seal at any time to achieve optimum vacuum level for various foods
EXTERNAL PUMPING FUNCTION: Equipped with "external vac" suction hose, it can vacuum food bag package, food storage container, wine stopper and other containers.