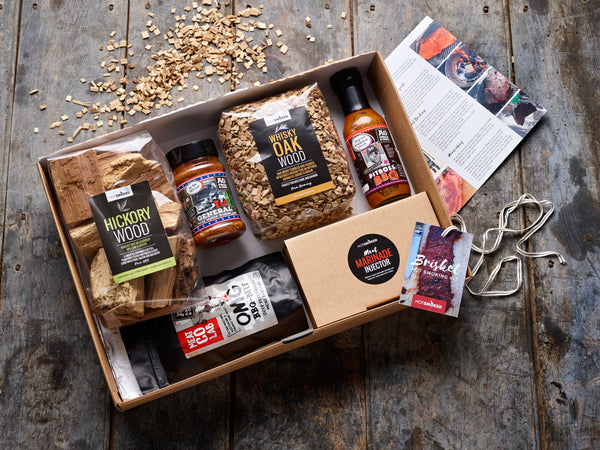 This Brisket Hot Smoking Kit will take your BBQ skills to new levels and your taste buds with it. Brisket is a prime but tough beef cut and one of the cheapest, but it's ideal for low and slow smoky bbq. We've teamed up with Angus & Oink to create a kit with all you need to perfect this bbq classic.
Includes hickory wood chunks and whisky oak wood chips
The General rub, PitBoss Sauce and OMG Beef Injection marinade - all by Angus & Oink
Marinade Injector, QBag foil pouch, detailed recipe
Gift boxed for fantastic present appeal
Product Description
There's quite an art to cooking brisket on a bbq or smoker, but with the right tools, recipe and a few handy tips & techniques you can cook a brisket as well as a bbq champ. We were taught our brisket techniques by professional barbecuer Kevin Baldwin, from our sponsored BBQ team, The Social Smokers. For Kevin, successful brisket is a must when competing in BBQ competitions around the country. This kit includes everything you need to follow the bbq experts and create the perfect brisket.
We've teamed up with Angus & Oink, specialists in punchy BBQ rubs and sauces, to create the definitive brisket kit.
Kit Contents
Hickory wood chunks 500g
Whisky oak wood chips 500g
Angus & Oink 'The General' Tex Mex rub 200g
Angus & Oink 'PitBoss' bbq sauce
Angus & Oink OMG Beef Injection, dry mix for marinade 300g
Marinade Injector
QBag Foil Pouch Detailed recipe
The kit is presented in a gift box with tag and ribbon tie, so makes a fantastic gift for the budding 'cue cook in your family.