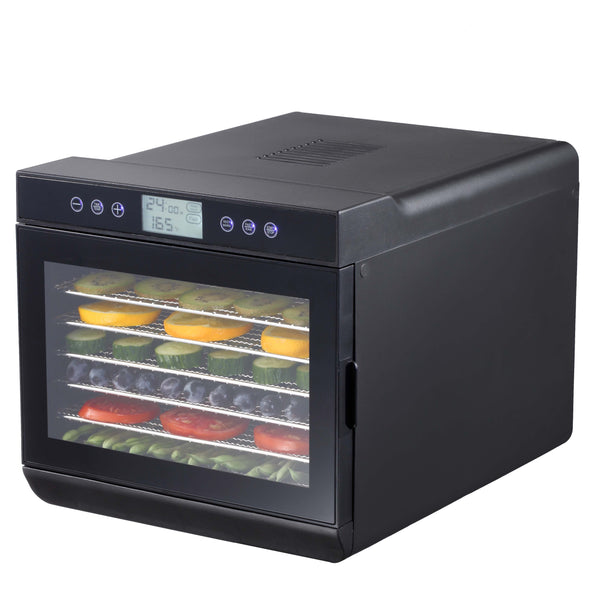 The powerful rear-mounted 500-watt heater on the 7 tray ensures even, consistent drying across all trays. Hot air is forced horizontally across each individual stainless steel
tray and converges on the core for fast, even, nutritious drying. Includes a 2 year warranty for restaurant use. The cleaning of the automatic dehydrator after completion
of the drying process is completely simple: the tray shelves and the lid can be easily rinsed off or washed in the dishwasher. the trays are removable which allows you
to add or remove trays according to your drying needs. Removing some of these trays will allow more space when proving dough and making yoghurt. The trays are
completely dishwasher-safe and stainless steel is nonreactive so can handle acidic foods like tomatoes or citrus without a problem. Using stainless steel drying trays ensures your food does not come in to contact with any harmful, BPA leaching materials. The case with the easy-to-read digital touch display is a visual highlight in every kitchen thanks to its elegant design.
KEY FEATURES
+ Attractive, durable construction
+ Timer adjustable up to 24 hours by 30 minute increments.
+ Adjustable thermostat 35°C to 75°C by 5° increments
+ Toughened glass door for easy viewing of drying cycle without temperature loss
+ 7 tray - 500 watt elements
+ Capacitive-touch display
+ Silent fans circulate the warm air for an evenly dried result, without the need to rotate the trays
+ Removable drip tray for easier clean up
+ Warranty 2 years commercial use
+ Dimensions 7 tray 311(h) x 340(w) x 450(d)mm
+ Plug fitted