6 Tray Stainless Steel Food Dehydrator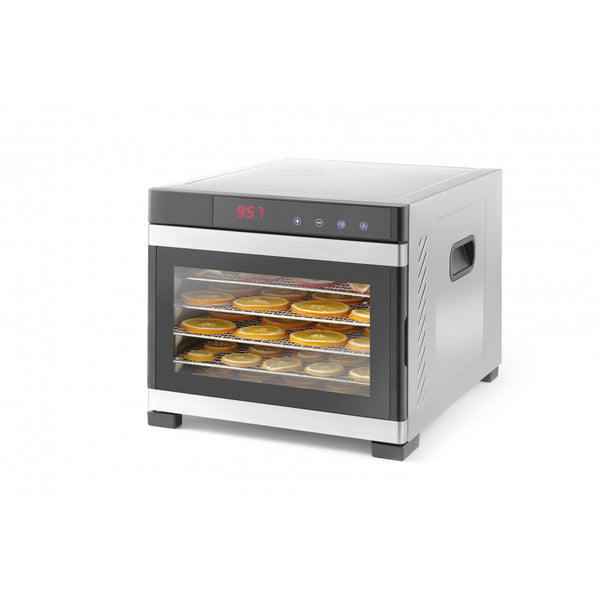 6 Tray Stainless Steel Food Dehydrator
The SousVideTools® 6 Tray Food Dehydrators offer a simple way to make healthy, nutrient-dense foods for your operation. High heat cooking can remove the nutrients
from the food, but the dehydrator's lower heat level works to preserve the nutrients and enzymes in the food. The dehydrator pulls the moisture out of the food which inhibits the growth of bacteria, yeast, and mold. There's no need to add preservatives and the process naturally preserves the shelf life of the food, so you can ultimately save money.

The SousVideTools® 6 Tray Food Dehydrator is great for making your own beef jerky, dried fruit slices, and granola.  Use it to try new recipes like kale chips and fruit leathers.
KEY FEATURES
Attractive, durable stainless steel construction
+ Timer adjustable up to 24 hours by 30 minute increments.
+ Adjustable thermostat 35°C to 75°C by 5° increments
+ Toughened glass door for easy viewing of drying cycle without temperature loss
+ 650 watt element
+ Capacitive-touch display
+ Silent fans circulate the warm air for an evenly dried result, without the need to rotate the trays
+ 6 tray - 10 Square feet of drying area
+ Removable drip tray for easier cleanup
+ 6 tray - Power Type 650W. 2.7A
+ Temperature Range 35°C - 75°C
+ Voltage 230V
+ Dimensions 311(h) x 340(w) x 450(d)mm