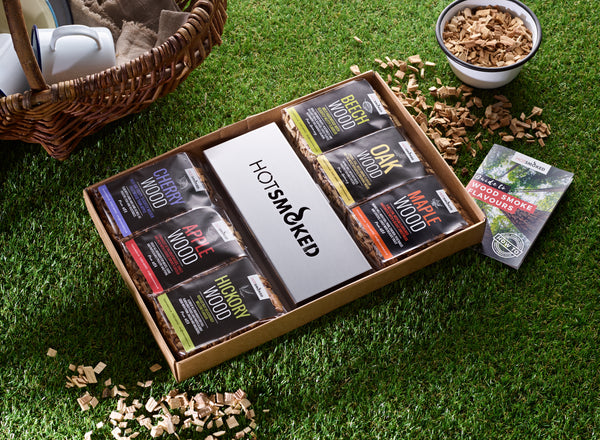 Get into hot smoking with this Wood Selection Box, a complete hot smoking kit for use on a BBQ or smoker. The kit includes six different wood chip flavours, a stainless steel smoker box, our 24 page recipe booklet and a guide to using wood smoke flavours. Packed into a sturdy kit box, this makes an ideal gift for the 'foodier' outdoor cook.
Ready made hot smoking kit
Six packs of wood smoking chips
Stainless steel smoker box
Supplied with recipe booklet and useful starter information
Product Description 
Explore amazing wood smoke flavour on a BBQ or smoker with this ready-made Hot Smoking Kit. Our Wood Selection Box includes six different wood smoke flavours including robust rich Oak and Hickory, medium sweet smoke of Cherry and Apple the mellow flavour of Maple and the more subtle tones of Beech - here you'll find a wood smoke flavour to match any hot smoking project, from hot smoked mackerel to pulled pork to good old sausages!
Included with the kit is our Hot Smoked smoker box, a solid stainless steel box which is the key to smoke flavour production. Fill with a handful of your choice of wood chips and place directly onto your BBQ charcoal heat source or just above the gas burners. As the steel heats up the chips begin to gently smoulder, releasing their aromatic flavours infusing the food you are cooking on your grill racks above. A hooded BBQ will give you the best results.
Our 24 page Recipe Booklet explores a range of recipes from the classic smoked meat dishes to vegetables and desserts and the accompanying Guide to Wood Smoke Flavours is packed with flavour advice and tips & techniques.
Packaged in a sturdy gift box and sealed with an information packed sleeve, our Wood Selection Box makes a brilliant gift for the outdoor cook ready to take the smoking plunge.
More details
Hot Smoked stainless steel smoker box, solid stainless steel, H4.5 x W8 x L18 cm
Wood smoking chips, approx 150g packed by volume in recyclable cellophane bags
Flavours include Oak, Hickory, Maple, Apple, Cherry and Beech All our woods are 100% pure natural hardwoods or fruitwoods, sourced from sustainable FSC or PEFC certified managed orchards or woodlands. Produced specifically for food smoking use. Chips measure approximately 5 to 10mm
Kit box measures H5 x W24 x L38 cm