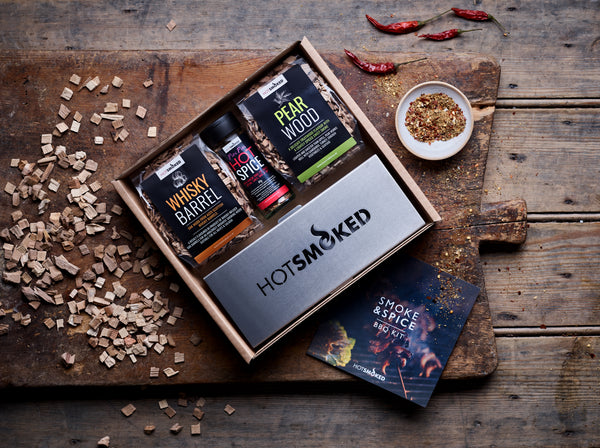 Gift of the Year 2021 FINALIST and Highly Commended. A wonderful gift for the foodie outdoor cook, this hot smoking starter kit is bursting with punchy smoke and spice flavours and our stainless steel smoker box. Just add chips to the box and place on your BBQ heat source for an explosion of flavour.
Gift boxed hot smoking starter kit
Whisky Barrel Oak and Pear smoking chips
Piri piri hot spice rub in shaker jar
Smoker box and recipe leaflet
Product Discription
A brilliant combination of smoke and spice for stunning hot smoking results. The kit includes our stainless smoker box together with Whisky Barrel Oak smoking chips, Pear smoking chips and a shaker jar of hot hot Piri Piri spice rub all packed into a gift box along with a 4 page leaflet featuring a range of meat, vegetable and dessert recipe ideas.
A wonderful gift for any adventurous foodie and if you love to BBQ, a fantastic way to add an extra flavour dimension to your cooking.
Kit contents:
Stainless steel smoker box - add a handful of chips to the box, replace the lid and place the box on your heat source. As it heats up the chips will begin to smoulder, releasing their smoky flavours. The box will protect the chips from simply burning up and promote mellow and longerlasting flavour production.
Whisky Barrel Oak Chips 200g - a strong smoke flavour with an intense whisky aroma, perfect for beef, game, salmon, fruits and vegetables. Produced from 25 year old oak barrels used to age Scottish whisky.
Pear Chips 200g - a delicate fruitwood with a subtle sweetness and spicy overtones, delicious with chicken, pork, fish, seafood and vegetables. Sourced from managed European orchards.
Piri Piri Hot Spice Rub 200g - a fiery blend of herbs and spices. Season your food and leave for up to one hour prior to cooking. Ingredients: Garlic, salt, chilli flakes, onion, basil, chilli powder. 50g supplied in shaker jar
Directions and Recipe Leaflet
Gift kit measures: L24 x W24 x D5 cm