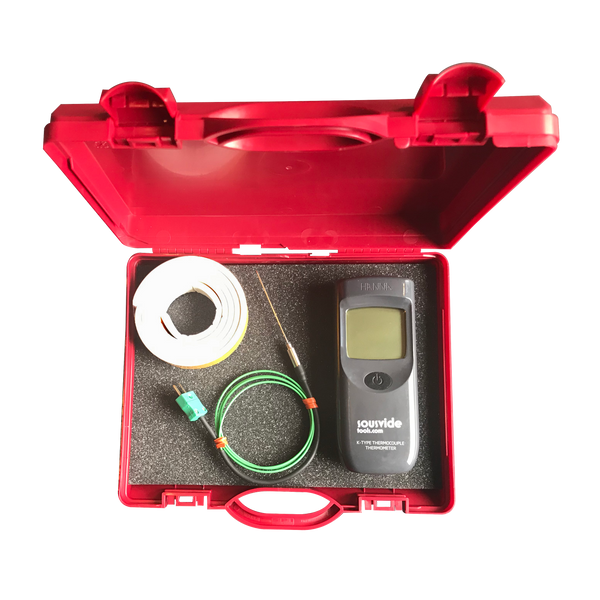 The highly accurate SousVideTools® Thermometer measures temperatures over a massive range from -50°C to +199.9°C; and other than a little light wiping when necessary, the unit is entirely maintenance free.
Operation couldn't be easier - simply attach a piece of the included foam tape to the vacuum pouch to ensure that vacuum pressure within the pouch is not lost, then pierce the foam with the fine needle probe to measure the core temperature of the food on the digital display. The unit is also waterproof to IP65 standards, meaning the
thermometer can be immersed in up to 1 metre of water for 30 minutes – so accidentally dropping into the water bath certainly isn't going to cause any harm.
This SousVideTools® Thermometer and Probe Kit even comes in its own hard plastic carry case for smart and tidy storage, and to ensure parts are not lost. The whole kit contains the Sous Vide digital thermometer, a 1.1mm diameter by 60mm long fine needle probe with an encapsulated handle, 1m of self-sealing foam tape, and the
carry case.Features include waterproof casing (rated IP65), CAL Check, low battery detection, auto-off capability, and long battery life.
+ High accuracy Sous Vide thermometer
+ Instrument waterproof to IP65 standards
+ 1.1mm fine needle probe.
+ Temperature measurement range of -50.0°C to +199.9°C
+ Digital LED display to 0.1°C
+ Hard Carry Case
+ Temperature log book
+ 1m of self sealing foam tape
+ Durable rubber body
+ Users Guide
+ 2 year warranty.
+ Complete waterproof assembly.
+ Supplied with 1.5V AAA batteries (3)
+ Needle Probe Specification:- 1.1mm Diameter by 60mm
Long, Stainless steel 316 (food grade), 1m straight tough
PTFE cable with moulded connector & polypropylene
handles. Time response 96% of value in water: 1.6 secs