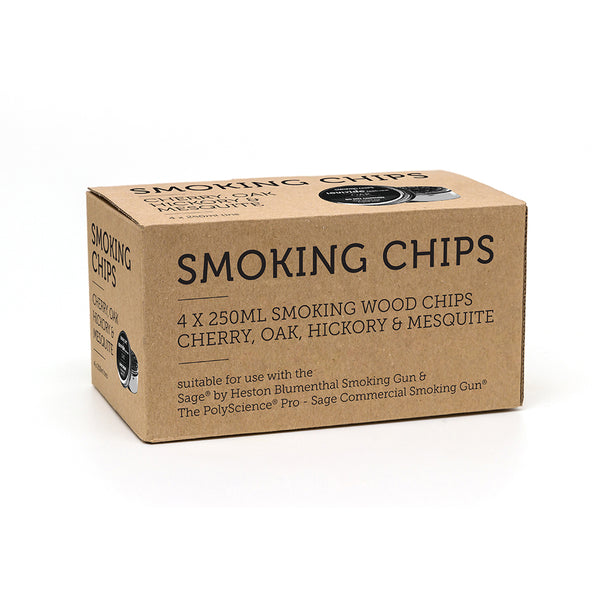 BEECH
Beech wood chips produce a medium flavour suitable for pork, ham and sausages.
BOURBON SOAKED
Bourbon soaked oak wood chips infuses gentle bourbon flavour. Great with ribs, brisket, and other red meats. Try some on your next venison smoked dish.
CHERRY
Cherry wood chips create a smoke that is rich, smooth, slightly sweet and fruity. It's a killer with Cornish game hens, duck breast, and for smoking vegetables as well as with all meats. Blend with oak for smoking turkey.
CHESTNUT
Both sweet and intense, chestnut is a stronger alternative to fruitwoods and works well with meats, game and of course turkey.
HICKORY
Hickory wood chips are the most popular smoking wood in the USA, good for all smoking. Ribs, pork, brisket and anything where a BBQ sauce is to be used, works well with this robust wood. Produces a strong bacon-like flavour.
MAPLE
Maple wood chips brings memories of vivid orange maple trees dotting green fields of lazy dairy cows - you get the picture. Maple is great for smoking cheese. Produces a mild sweetish flavour that is great with pork, poultry small game birds, vegetables and cheese.
MESQUITE
Mesquite would chips bring a flavour of the Southwest USA, from smoked chicken tacos to smoked chilli-peppers. This has a very strong, earthy flavour so remember a little bit does it as overused it can turn foods bitter. Works well with most meats, especially beef, and most vegetables.
OAK
Oak is wonderful with sausages and blended with cherry for smoking turkey. This popular wood produces a heavy smoke flavour that is great for all red meat, heavy game and pork.
CABERNET BARREL OAK
Made with natural oak wood, these chips add just a hint of wine to your favourite grilled food. Try them and get a whole new flavour experience a wine infused oak wood chips are a gourmet delight.
WHISKEY SOAKED
Whiskey oak chips infuse food with bold, peaty notes. The aromatic whisky chips are a great way of flavouring red meat such as ribs, brisket and venison. Try using in American-style dishes, or bring a twist to Scottish game with these exciting woodsmoke aromas. 
ALDER
Alder wood chips are famous in the Pacific Northwest for smoking salmon, this mild wood is the chefs smoke of choice when looking to create a delicate smoky flavour with a hint of sweetness. Excellent with all fish (especially salmon & trout), seafood, pork, poultry and light-meat game birds and vegetables.
APPLEWOOD
Applewood is a slightly sweet but denser, fruity smoke flavour. Excellent for game birds, fish, beef, poultry and pork (especially ham).
All individual woods come in 250 ml containers except for the combination pack which will be 4 individually contained woods with 250 ml each