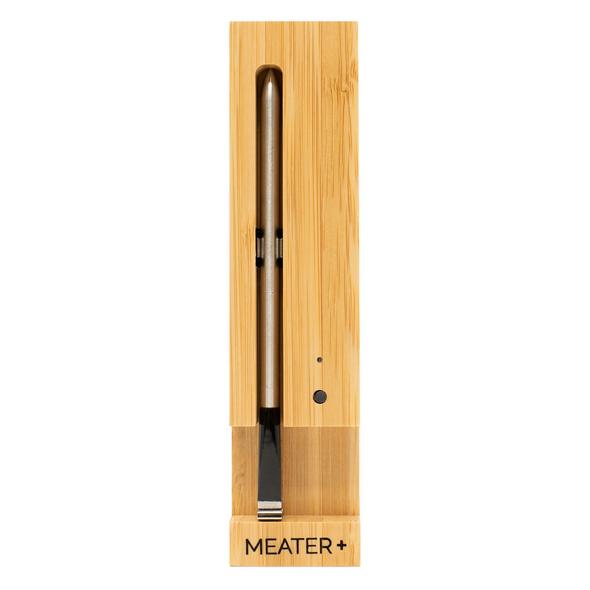 MEATER+ With Bluetooth Repeater
Up to 50m Wireless Range
The same awesome smart meat thermometer PLUS extended wireless range! Get more freedom from your grill, smoker, or kitchen. 
Features 
Built-in Bluetooth repeater in the charger extends the wireless range up to 50m.
100% Wire-Free: No wires. No fuss. The first truly wireless smart meat thermometer.
2 Sensors, 1 Probe: Dual temperature sensors can monitor internal meat temperature and ambient.
Guided Cook System: Walks you through every step of the cooking process to guarantee perfect and consistent results.
Advanced Estimator Algorithm: Estimates how long to cook and rest your food to help plan your meal and manage your time.
Connectivity Suite: Monitor your cook from a phone or tablet over Bluetooth. Extend your wireless range using MEATER Link WiFi and the MEATER Cloud.
SPECIFICATIONS 
Probe Specs
Bluetooth LE 4.0 wireless connection
Maximum internal temperature: 100°C (meat)
Maximum ambient temperature: 275°C (cooker)
Stainless steel and ceramic construction
Water resistant and easy to clean
Rechargeable: Over 24 hours of continuous cooking
Dimensions: 130mm length and 6mm diameter
Charger Specs
Built-in Bluetooth repeater extends range up to 50m
Store and charge your MEATER probe
Magnetic backing: Attach anywhere
Charges MEATER up to 100 times with one AAA battery
Real wood to match any kitchen or outdoor decor
LED indicator to show battery state
Dimensions: 157mm L x 37mm W x 28mm H"
App Requirement
iPhone and iPad apps for iOS 10.3 and later
Android app for versions 5.0 and later