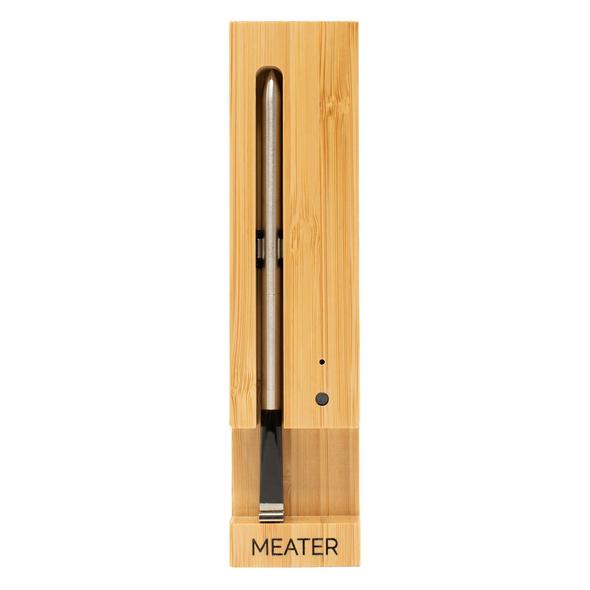 Up to 10m Wireless Range
MEATER is the first truly wireless smart meat thermometer. Along with the MEATER app, it will help you cook the juiciest steak, chicken, turkey, fish or other meats perfectly every time for every occasion. 


Features 
100% Wire-Free: No wires. No fuss. The first truly wireless smart meat thermometer.
2 Sensors, 1 Probe: Dual temperature sensors can monitor internal meat temperature and ambient.
Guided Cook System: Walks you through every step of the cooking process to guarantee perfect and consistent results.
Advanced Estimator Algorithm: Estimates how long to cook and rest your food to help plan your meal and manage your time.
Connectivity Suite: Monitor your cook from a phone or tablet over Bluetooth. Extend your wireless range using MEATER Link WiFi and the MEATER Cloud.
SPECIFICATIONS 
Probe Specs
Bluetooth LE 4.0 wireless connection
Maximum internal temperature: 100°C (meat)
Maximum ambient temperature: 275°C (cooker)
Stainless steel and ceramic construction
Water resistant and easy to clean
Rechargeable: Over 24 hours of continuous cooking
Dimensions: 130mm length and 6mm diameter
Charger Specs
Store and charge your MEATER probe
Magnetic backing: Attach anywhere
Charges MEATER up to 100 times with one AAA battery
Real wood to match any kitchen or outdoor decor
LED indicator to show battery state
Dimensions: 157mm L x 37mm W x 28mm H"
App Requirement
iPhone and iPad apps for iOS 10.3 and later
Android app for versions 5.0 and later